The Duck-Rabbit Brewery consists of people, ideas and equipment. Our staff is an ever-growing* dedicated team of passionate brewery professionals:
Paul Philippon, Founder (most likely to fall asleep in his lasagna)
Will Pardon, Brewer (most likely to be in the kitchen with Dinah)
Robert Owen, Key Accounts Manager (most likely never to meet a barber)
Tony Mercer, Production (most likely to climb a butter beanstalk)
Sherry Vick, Taproom Manager (most likely to pour beer for our guests after winning a triathalon)
Matt David (most likely to teach us a thing or two about the modern world)
Josh Bryant, Sales Representative (most likely to finish his drink before you do)
*Would you like to see yourself on this list? Employment opportunities at Duck-Rabbit can be found by clicking here!
We express our ideas through our beer, of course. The beers are an expression of Paul's vision. We only brew beers that Paul enjoys! So, what you get in a Duck-Rabbit beer is determined by enthusiasm for delicious beer, not a focus group or a bean-counter!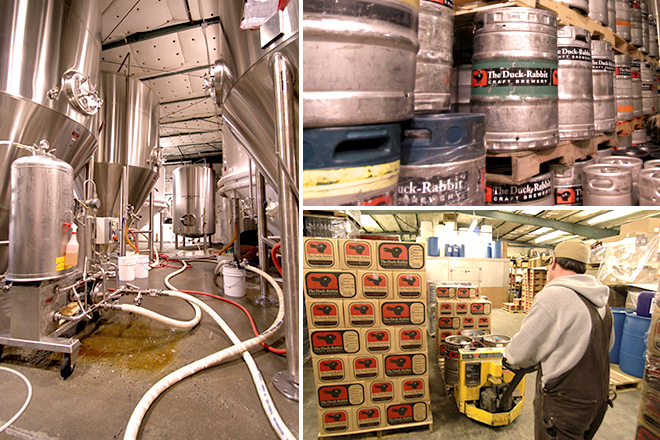 All Duck-Rabbit operations (brewing, packaging, warehousing, and shipping) are housed at our facility in Farmville, NC. We brew on a 20-barrel brewhouse (one barrel being 31 gallons) into 20, 40, 60, and 80 barrel tanks.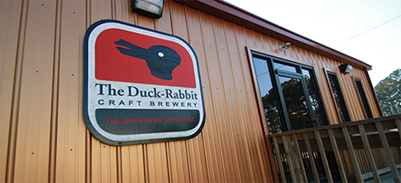 To get to the brewery, take Hwy 264. Get off at exit #63 (this puts you on Hwy 258) and go south toward Farmville (that's a right turn if you were going east on 264 or a left turn if you were going west on 264). Go through one stop light, then through one stop sign. At the second stop sign, turn right onto W. Pine Street. We are the last building on the left side before this street ends at a "T" intersection. Our address is 4519 W. Pine.